smooth surface chromium carbide overlay plate - Caster Metallugical Co.
Caster Smooth Surface Chromium Carbide Overlay plate is a bimetal plate that chromium carbide flux cored wire overlaid on the mild steel base plate using submerged arc welding process.
Based on the submerged arc welding process, We can now mass produce smooth surface chromium carbide overlay plate. (We also produce traditional CCO plate, details below the blue words)
Because we also produce the flux cored wire, so the chemical composition is flexible.
We also offer Fabrication Services like countersunk holes, stud welding, for the creation of all kinds of wear liners.
Features & Benefits:
Last 5 times longer than hardox 500(lab test results).

Considering the long lifespan and low down time, our solution is more cost efficient.

No weld beads.

Because of the smooth surface, materials will move easier, less hang up/carry back



Comparison with traditional CCO plates(we also produce):
Type

Surface

Weld beads

Fusion line

Cracks

Caster smooth surface chromium carbide overlay plate

Smooth, low friction. Reduced material buildup

No weld beads.

So material directional flow is not required

Low dilution with a uniformed fusion line, consistent hardness and micro structure, consistent wear rates

Minimal cracks.

Low residual stress between overlay and base plate. Easy for bending and fabrication

Traditional chromium carbide overlay plate

Rough, uneven, material buildup

weld beads.

Directional flow over weld beads matters

High dilution and uneven fusion line. Accelerated wear rates when thickness start to reduce

Lots of cracks.

High residual stress between overlay and base plate. Not easy for bending and fabrication.

Smooth Surface Wear Plate

:
We produce smooth surface CCO plate for special applications. max sheet size 1.2mx3.8m, Thickness range(base plate + overlay):
6+4, 6+6, 8+4, 8+6, 8+8, 10+ 4, 10+6, 10+8, 10+10, 12+4, 12+6, 12+8, 12+12......

Surface roughness average(Ra.):2.0 - 2.3 um. ASTM G65 procedure A:<0.20g/6000r. Hardness:58HRC. Operating temperature: under 500 degree(Celsius).
The chemical composition is similar to our standard CCO plate. And it can be adjusted to your needs very easily. For Arcoplate 1600 equivalent(35%-40% chrome content) please contact us.
We are expanding our smooth surface chromium carbide overlay plate production line because of growing interests in this product.
The most distinctive feature of our smooth surface bi-metallic plate is that it has no weld beads. This feature makes the mirror-like smooth surface possible. As there are minimal cracks and residual stress between overlay and base plate, the smooth surface plate is easier for rolling and fabrication than traditional chromium carbide overlay plate.
When using traditional chromium carbide overlay plate, some material will stick to the uneven surface, causing material build-up. This problem will decrease your productivity and increase your cost. Our smooth surface overlay plate is made to solve this problem. It has the combined benefits of regular-steel's smooth surface and chromium-carbide-overlay-plate's toughness. So if you have any such requirement, please tell us.
Based on submerged welding process, The cost is higher but not prohibitive. If you are interested in our smooth surface hardfacing plates, please contact us directly.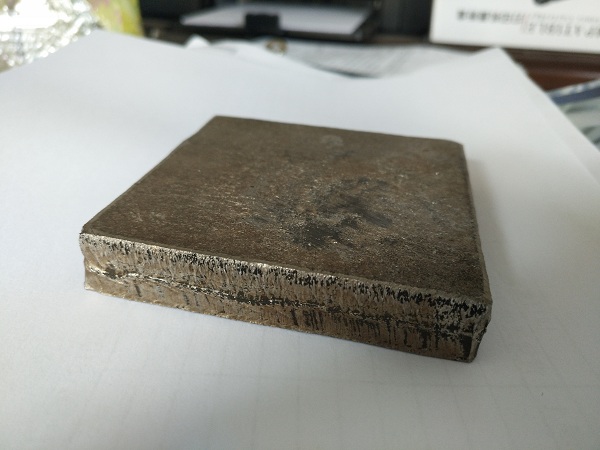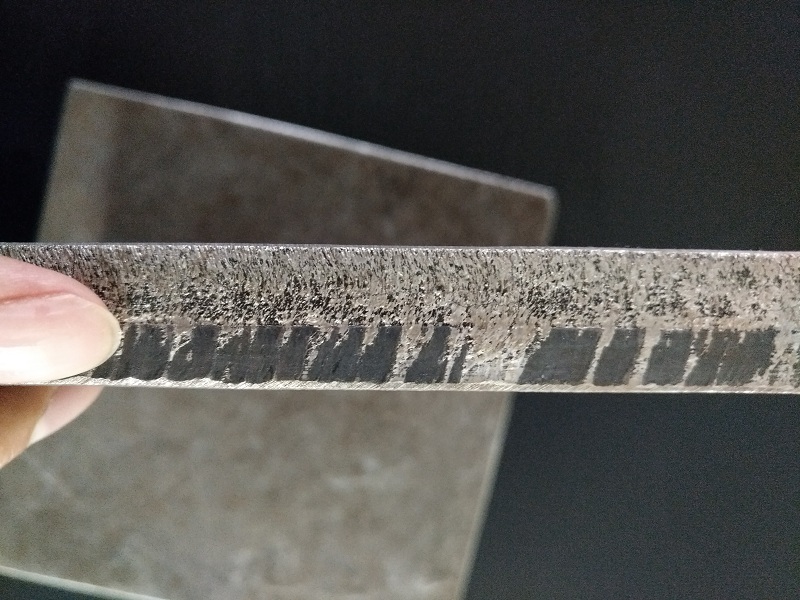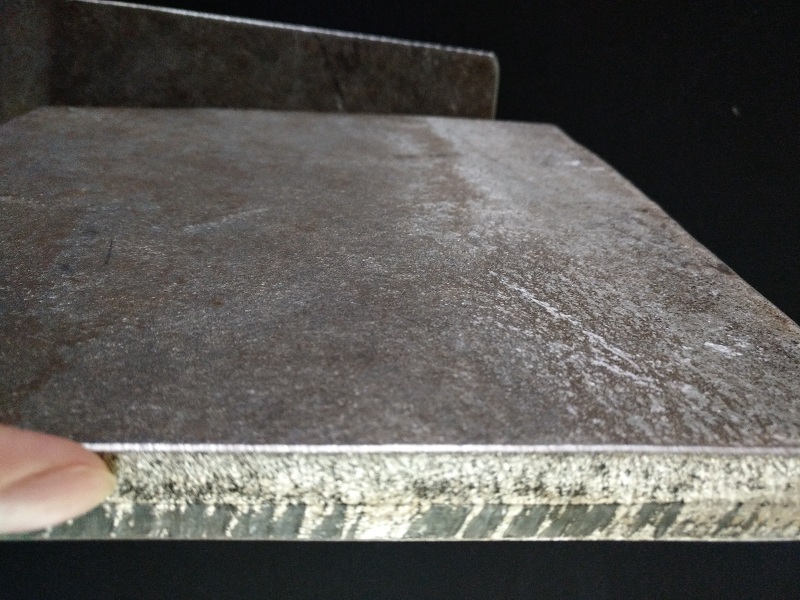 We also produce traditional CCO plates, the following information are all for our regular CCO plates.
Technical Specifications & Chemical Composition of our

regular

CCO plate(with weld beads):
Product Name




chromium carbide overlay plate, chute liner, chute lining, chromium carbide wear plate, chromium carbide plate, wear plate, wear liner, chromium carbide overlay wear plate, chrome hard facing plate.




HS Code




8474900000

Brand




Caster (Chinese pinyin initial: KST)

Base Plate




Q235B/SS400




Chemical Composition




C(%): 3.0-5.0, Cr(%): 22-27, Mn(%): 2.0-3.0, B(%): 0.7-1.0

for 30%-32% chrome content(which require Additive Manufacturing process) please contact us.

Hardness




HRC58-62




Technique




Open arc




Flatness tolerance




±3mm/m.




Thickness tolerance

±

0.5mm.




Main Thicknesses




3 on 5, 4 on 6, 5 on 6, 6 on 6.

4 on 8, 5 on 8, 6 on 8, 7 on 8, 8 on 8.

4 on 10, 5 on 10, 6 on 10, 7 on 10, 8 on 10, 9 on 10, 10 on 10.

4 on 12, 5 on 12, 6 on 12, 7 on 12, 8 on 12, 9 on 12, 10 on 12, 11 on 12, 12 on 12.

4 on 14, 5 on 14, 6 on 14, 7 on 14, 8 on 14, 9 on 14, 10 on 14, 11 on 14, 12 on 14, 13 on 14, 14 on 14.

6 on 20, 8 on 20, 10 on 20……

Customised.

Plate Size




full sheet size:1400*3400mm

Any size smaller than this, we can cut them for you. larger than this size, we can weld them for you.

Place of Origin




China.



Performance comparison between Caster chromium carbide overlay wear plate and other wear plate:
| | | | | | | |
| --- | --- | --- | --- | --- | --- | --- |
| Item | Hardness(HRC) | Max service temperature | Abrasion | Impact | Processability | Service life |
| Steel plate | 35-55 | Low | ★ | ★ | ★★ | ★ |
| Hardox | 37-57 | 600 | ★★ | ★★ | ★★★ | ★★ |
| NM | 33-42 | 600 | ★★ | ★★ | ★★★ | ★★ |
| Caster wear plate | 58-62 | 600 | ★★★ | ★★★ | ★★ | ★★★★ |
Product display of our chromium carbide overlay plate and wear liner/chute lining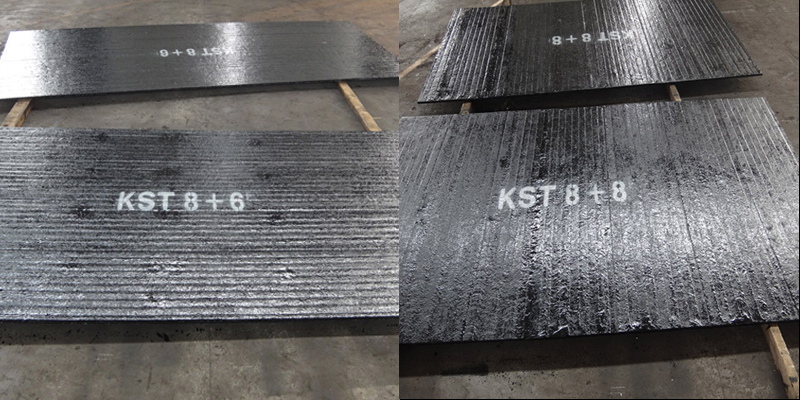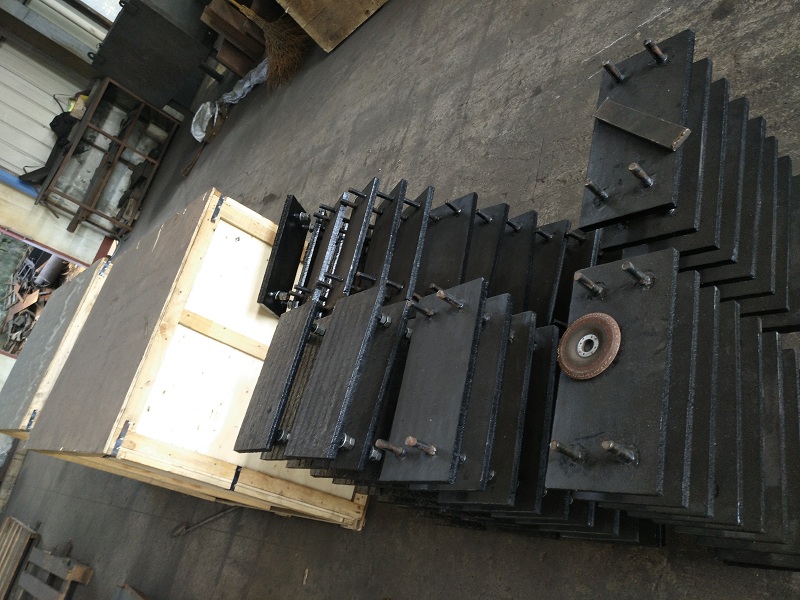 Following are some of our clients




Notes:
Standard plate size 1400*3400mm
Plate size is actual overlay area
Any alternative base material can be used, such as Q235B or stainless steel plate
Double side welding, overlay can be applied to both sides of the plate, such as 4+6+4 overlay plate
Customised overlay thicknesses can be produced upon request
Can be cut or installed on site
Fabrication services in Jiangsu caster company
Cutting and Forming
caster chromium carbide plates can be easily cut to dimensions using Plasma cutting or water jet cutting. Our overlay wear plates can be rolled as per drawings, and the minimum bending radius is 20 times of the plate total thickness.
Please kindly note that hardfacing overlay plate cannot be machined or drilled by conventional methods. Both countersunk and square holes must be cut by plasma or water jet cutting.
Installation
Commonly, the welding beads shall be installed perpendicular to the materials flow direction in order to obtain maximum wear life. In our company, we offer overlay plates with two different welding bead, normal straight welding pattern and weave pattern. The weave pattern overlay plate enables it much flexible to install either perpendicular or parallel to the material flow direction, make it more wear resistant than normal pattern wear plate, which increases service time of the overlay plate.
Quality:
We have various third party certificates like BV, SGS, ISO... These credentials aside, we also promise free replacements for any quality related problems.